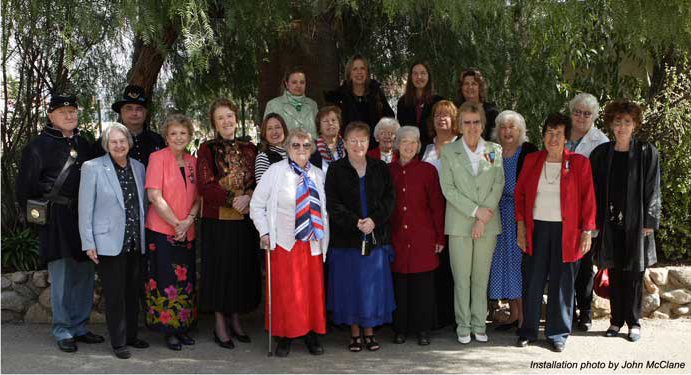 What was to become the first Daughters of Union Veterans of the Civil War, 1861-1865 tent to serve the San Fernando Valley in the organization's 123-year history, met for the first time on October 6, 2007. Eleven sisters and prospective sisters met at the home of Carole Morton in Granada Hills. The ensuing discussions led to the formation of the Cornelia Hancock Tent which subsequently became the 91st Tent in CA/NV Department history.
On February 2, 2008 the installation of Cornelia Hancock Tent 91 was held at the historic Andres Pico Adobe. The tent was named in honor of a nurse and humanitarian who was one of the Civil War's first female volunteers.
The charter contains the names of 43 women who are lineal descendants of honorably discharged soldiers and sailors who served in Union Army, Navy or Marine Corps and Revenue Cutter Service and those who died, or were killed, while serving in the armed services of the Union between April 12, 1861 and April 9, 1865.
The San Fernando Valley Historical Society printed the following article in their February 2008 newsletter.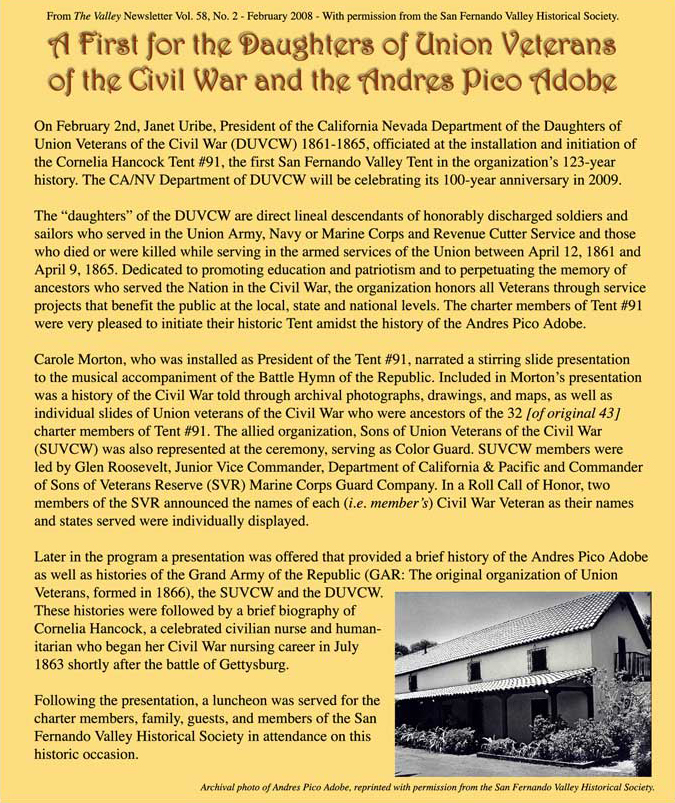 We welcome those who wish to perpetuate the memories of their ancestor(s), their loyalty and unselfish sacrifices for the preservation of the Union and to keep alive the history through historical projects such as preserving Civil War artifacts and momentos; to commemorate and preserve Civil War monuments and burial sites and participate in patriotic and Memorial Day ceremonies. For those who aspire to help promote interest in Civil War history and to preserve the history of the Grand Army of the Republic, then this is the organization for you! between