Pvt., 12th Illinois Cavalry
1842-1886
Lyman T. Gibbs was born 13 August 1842. He died 20 January 1886. He enlisted in Company D, Twelfth Regiment of Cavalry, Illinois Volunteers 24 February 1862. His regiment was sent first to Missouri. During Lyman's service, he participated in sixteen battle and skirmishes. At Harpers Ferry, he was wounded. His horse fell on him, and he had a very narrow escape from death. Lyman was discharged 27 February 1865. His brother, William Henry Gibbs also served in the Civil War, participated in many battles and skirmishes, and he was taken prisoner and confined in Libby prison. His oldest brother, Joseph W. Gibbs, died in the Civil War. These three brothers enlisted at the same time in the same Company and Regiment.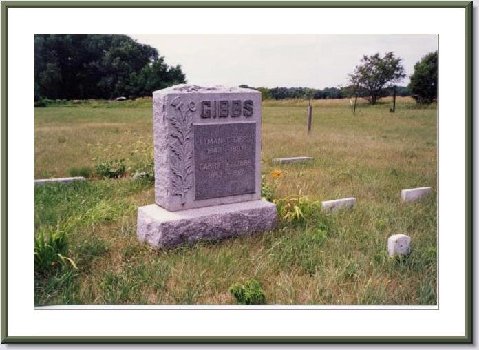 Lyman was born in Massachusetts, the son of Isaac Gibbs and Fanny Stacy. He went to New York State with his parents when he was two years of age. The family remained in New York for fourteen years, and then migrated to Michigan. He married Caroline "Carrie" Elizabeth Peters on 12 March 1866 in Rollin, Lenawee County, Michigan. She was the daughter of Timothy and Celia Peters. In 1876, Lyman moved to Nebraska, locating in Madison County where he bought a homestead right. He remained there for only a year, and then took up a homestead claim. Lyman T. Gibbs' children are Ermina "Minnie" Julia Gibbs, James William "Willy" Gibbs, Fannie Carolyn Gibbs, Harrison Stacey Gibbs, Charles Lyman Gibbs, and Eva Luella "Lulu" Gibbs.